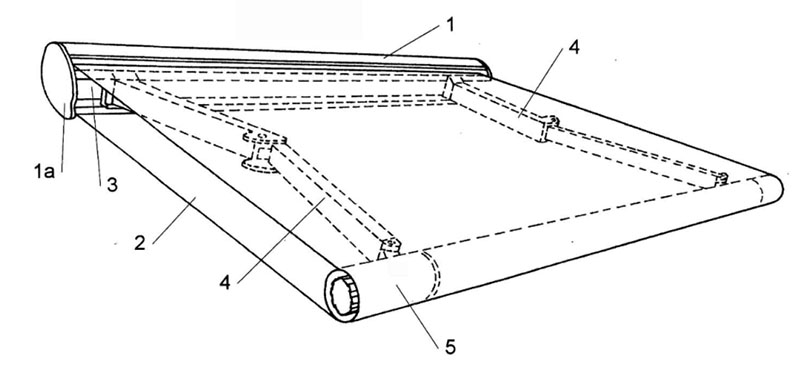 Representative No: U1500038
Type of IP: Utility model
Industry: construction and heavy industry, consumer goods industry
Outline
Arm-operated building blinds and awnings, including articulated arm awning structures have long been widely used due to their many advantages. However, it is not aesthetically ideal for the arms of the support structure to be visible mostly from below, but in some cases, when the plane of the shading element is below of the supporting structure and armature, it can be seen from above. The invention relates to an articulated arm awning comprising a holder, (1) with a roller tube (3) rotatably mounted in the holder, an awning fabric (2) that can be unwound from the roller tube, at least two articulated arm units (4) composed of at least two arms and the slewing gear actuating the roller tube (5), wherein the arms (4) and the roller tube (5) are both arranged so, that the awning fabric covers them both from above and below.The invention provides weather protection for the awning arms and also provides an aesthetic solution for covering the support and actuator of the awning.