DANUBIA IPMALL
THE INTELLECTUAL PROPERTY MARKET
In a world where 95% of all patents are never put to use to create new products, services and economic growth;
It is not surprising to see most patents being terminated prematurely, because the investment needed in the maintenance of protection does not pay off.
Danubia IPMall Intellectual Property Market service platform creates crucial links between potential licensors and licensees.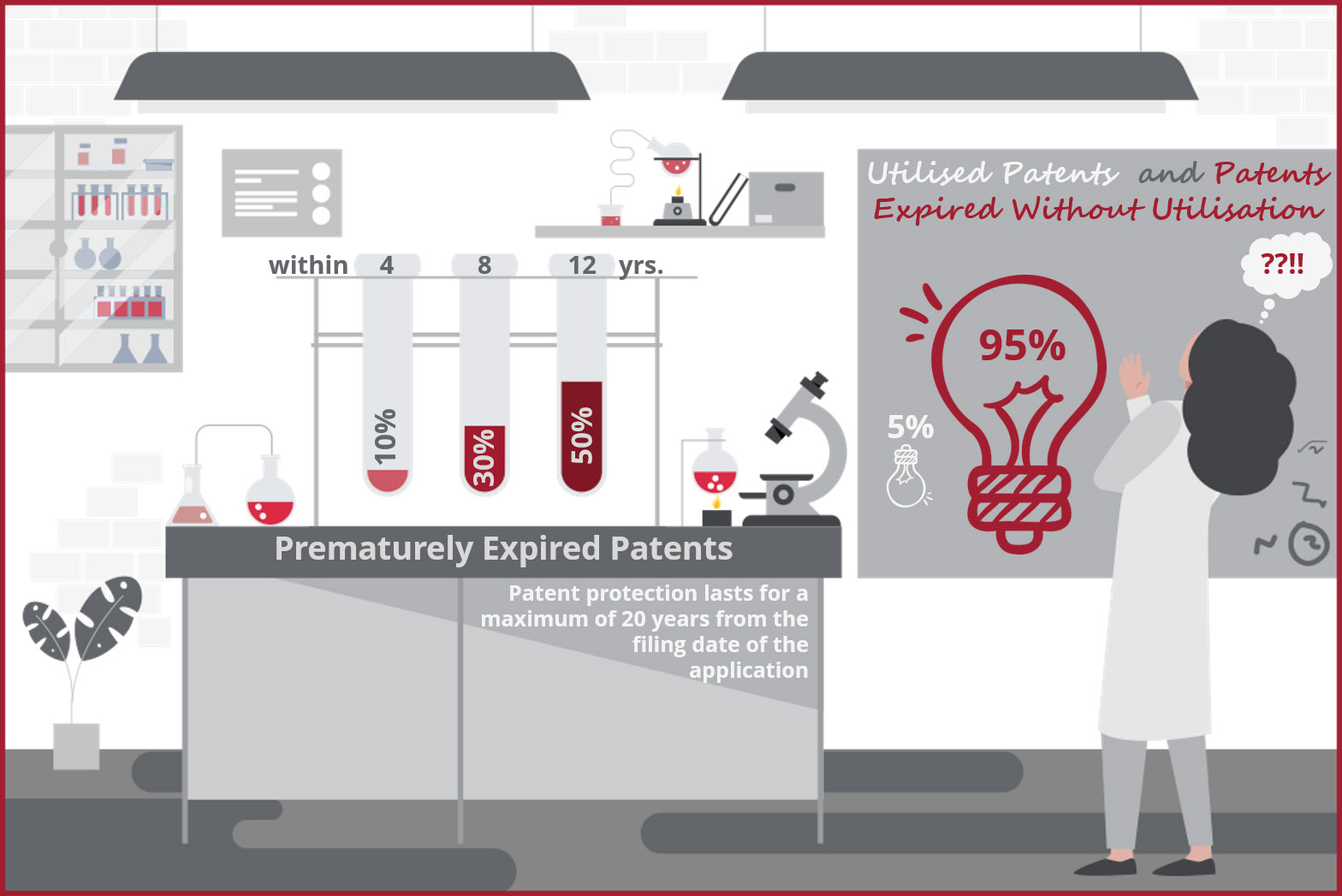 Danubia IPMall Intellectual Property Market service offers a unique opportunity for both prospective licensors and licensees by matching the right parties via its digital marketplace platform, and via fostering the problem-free, tailor-made arrangement of the technology transfer deal and administration by services of the professional and independent consultancy of our Intermediary Center.
As one of the central actors on the Hungarian patent registration market, Danubia Group has both an unparalleled database on underutilized intellectual property, and the business and legal expertise to facilitate fast and smooth IP transfers.  Our Danubia IPMall Intellectual Property Market, IP Valuation and License Transfer services provide you with a one-stop solution to comfortably handle even the most urgent license acquisitions.
For further information, read here!
WHAT ARE THE BENEFITS FOR THE LICENSEE?
Danubia IPMall Intellectual Property Market supports venture capital investors and industry players seeking state-of-the-art solutions, as well as tender consultants and participants of National or European tenders for technology acquisition funding.
By skipping part or all of the otherwise necessary R&D activity, the licensee can:
» Shorten the time required for research and experimental development activities before a new product can be launched on the market. In most cases, the former process can fully be substituted via technology acquisition, while the latter may be drastically speded up;
» Lower R&D asset requirements, including laboratory costs, the purchase and operation of special tools and equipment, and the material expenditures during testing;
» Reduce human resources related costs of R&D, most importantly the labor expenses of specialist researchers and developers, which may represent the most significant segment of R&D expenditures;
» Evade the natural risks posed by R&D activities, arising from scientific and technical uncertainty. Remember, not all R&D projects will be technically successful and even fewer will generate a cost-effective product / service that can be introduced to the market;
» Eliminate market-entry risks by licensing technologies that have already been successfully introduced in other countries, with a proven history of market penetration and revenue data;
» Save on costs related to obtaining and maintaining intellectual property protection and enforcement.
Our expert consultants are ready to assist prospective licensees with conducting license negotiations and drafting all related legal documents.
High market entry costs exclude the vast majority of small and mid-sized businesses, and virtually all individual inventors from ever utilizing their patents.
With Danubia IPMall Intellectual Property Market service, patent holders may find the right partners to realize the business potential of their intellectual property.
For further information, read here!

WHAT ARE THE BENEFITS FOR THE LICENSOR?
Danubia IPMall Intellectual Property Market supports individual inventors, technology-owning SMEs or other organizations developing promising technologies, as well as tender consultants and participants of National or European tenders looking for bidding partners.
By partnering with a licensee, the following challenges of the innovation and market entry processes can be overcome efficiently:
» The infamous "valley of death" effect, when the technology developer is capable only to finance the R&D activity up to the prototyping phase, but would not be able to fund the testing and product development stages required for mass production;
» Lack of social capital and brand recognition required to build contacts with a sufficiently large number of industry partners and investors needed to realize market entry;
» Lack of mass production capacity or efficiency of scale;
» Personal, geographical or technological limitations of in-house sales, marketing or public relations capabilities, or a lack of a sufficiently extensive distribution network;
» Time pressure or funding limitations preventing the organic development of missing in-house capabilities or making the gradual buildup of strategic alliances and distribution networks impractical.